The Common Man
Work, leisure and the automated society in Okamoto Taro's photographic installation, Osaka, 1970
The representation of work has left its mark on the history of photography and of the great World's Fairs. In its celebration of the automation and dematerialisation of work, the Osaka World's Fair of 1970 took issue with this historical current, foregrounding the advent of the "information society" in a series of audiovisual installations presented as the culmination of post-industrial capitalism. In this context artist Okamoto Taro's photographic frieze The Common Man had an anachronistic look: in its use of black and white images in the Family of Man tradition and its vision of a human community united by the value of work, it seemed at odds with the rest of the exhibition, while testifying to the inner contradictions of a Japan faced with the emergence of the "leisure society".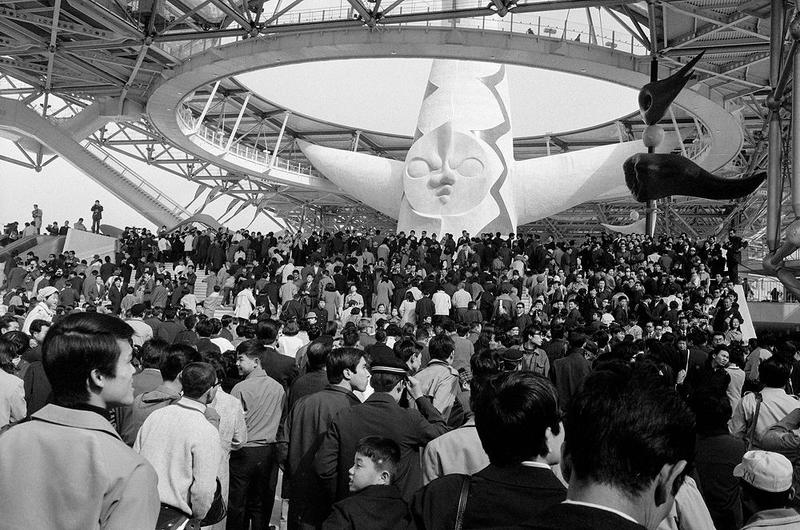 Gabrielle Schaad studied art history, East Asian art history and medieval archaeology at the University of Zurich and the École pratique des hautes études in Paris. In the course of the academic year 2013–2014 she was the beneficiary of a MEXT research grant at the Graduate School of Cultural Science at Saitama University in Japan; in 2014–2015 she was a teaching assistant at the Chair for Art History and Visual Culture at the Graduate Program in Global Studies at Sophia University in Tokyo; and in 2016 she defended her doctoral thesis at the Institut für Geschichte und Theorie der Architektur at the Swiss Federal Institute of Technology in Zurich.
Keywords: World's Fairs, Osaka '70, automation, dematerialisation, information society, leisure society, photographic installation, The Family of Man
Citation: Gabrielle Schaad, « L'Homme ordinaire. Travail, loisirs et société automatisée dans l'installation photographique de Okamoto Tarō, Osaka, 1970 », Transbordeur. Photographie histoire société, no. 2, 2018, pp. 114-123.