From Theory to Object
Present-tense histories of digital photography
The advent of the digital photographic image at the beginning of the 1990s triggered debates mostly focusing on the medium's presumed loss of authenticity, while the achievements of the two preceding decades – at the material, technical and institutional levels – remain relatively unexplored. At the intersection between the scientific and artistic fields, and between photography and computer art, a variety of visual forms took shape during that period; this resulted as much from technical experiments carried out in close association with engineers as from a critcal stance on the part of artists which, paradoxically, challenges this notion of authenticity. The examination of how these visual forms were exhibited between 1968 and 1998 allows us to retrace these developments "in the present tense", by contrasting a material history of the digital in photography with a fundamentally theoretical one.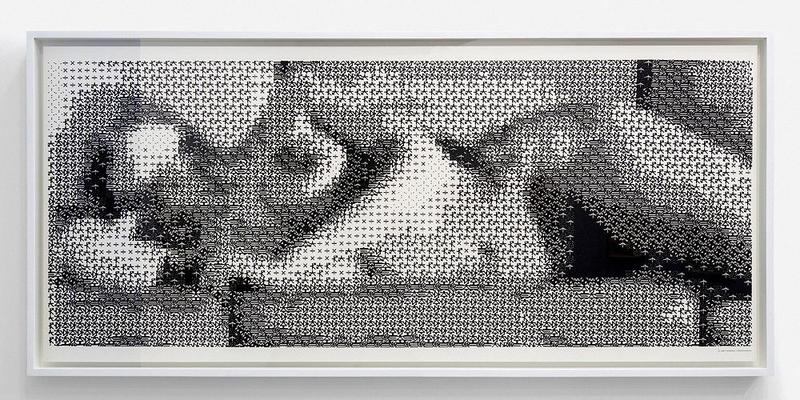 The historian of contemporary photography Claus Gunti teaches at the University of Lausanne and ECAL in Lausanne. His research bears on the history of digital images and the role of the new technologies in contemporary artistic practice. His recent publications include the editing of "Drones, cartographie et images automatisées" (Décadrages, 2014), "Taiyo Onorato und Nico Krebs. Visuelle Heterotopien" in Kunstpreis der Böttcherstrasse (Kunstverein Bremen, 2016) and Digital Image Systems: Photography and New Technologies at the Düsseldorf School (transcript-Verlag, 2018).
Keywords: digital photography, exhibition, Experiments in Art and Technology (EAT), computer art, Nancy Burson, Ken Knowlton, MANUAL
Citation: Claus Gunti, « De la théorie à l'objet. Histoires de la photographie numérique au présent », Transbordeur. Photographie histoire société, no. 2, 2018, pp. 40-53.